Works on paper in water-colour and colour pencil.
After studying botanical drawing on Kauai at the National Tropical Botanical Garden with Wendy Hollender and Vern Fannin of Draw Botanical, Sam has joined the Draw Botanical team as an instructor. Check out our workshops and join us for a drawing class or online course. Suitable for beginners and experts.
Please contact Sam with inquiries on purchasing originals or prints.
Electronic Pacific
SOMArts Cultural Center
San Francisco
2013
"Electronic Pacific, a group visual art exhibition that investigates the liminal spaces of language translation, digital communication as a visual art medium, and trans-oceanic cultural exchange". "Samoan visual artist Vaimaila Urale traces family and cultural roots in the production of new media artwork. "Typeface," a tattoo project, utilizes the history of traditional tattoo iconography to create all new text-based Polynesian inspired tattoos transposed into digital interactive artwork. Urale will design a set of real tattoos both permanent and temporary to be administered by acclaimed Tattoo Artist Sam McWilliams during the gallery opening." Recipients were pre-selected and signed up ahead of time for their tattoos. A temporary tattoo permit was obtained from San Francisco's Public Health Department.
Curated by Justin Hoover
more
Party Animals
Tattoos by Kids
Event to be produced in Vancouver BC
Parents often get tattoos of their kid's drawings. Kids are the best drawers. Let's make it an event! It's a win win. Children will be invited for an arts activity drawing animals or any of their favorite things. Themes can vary. Shop provides all materials. Parents or interested adults will book appointments and return to get tattooed. Custom temporary tattoos will be made of the children's drawings as gifts.
more
Cortes de Pelo, Estilo Lesbiana 2011
Watercolor and turmeric on Board
Sam painted this flash sheet for beloved neighborhood hair salon Pretty People Collective Presents: Cut N Color, A Tattoo Flash Show, in San Francisco's Mission District.
The Adrienne Rich Flash Sheet 2012
Watercolor on Arches
After the passing of beloved poet Adrienne Rich, the superbly talented writer Ali Liebegott and the super skilled artists of Diving Swallow Tattoo organized a marathon reading of Rich's work at the tattoo studio in Oakland, California. While attendees read Rich's poems aloud over a microphone, Cedre Csillagi and Sam McWilliams tattooed participants with Sam's Tattoo Flash style paintings and lines from the poet's work.
more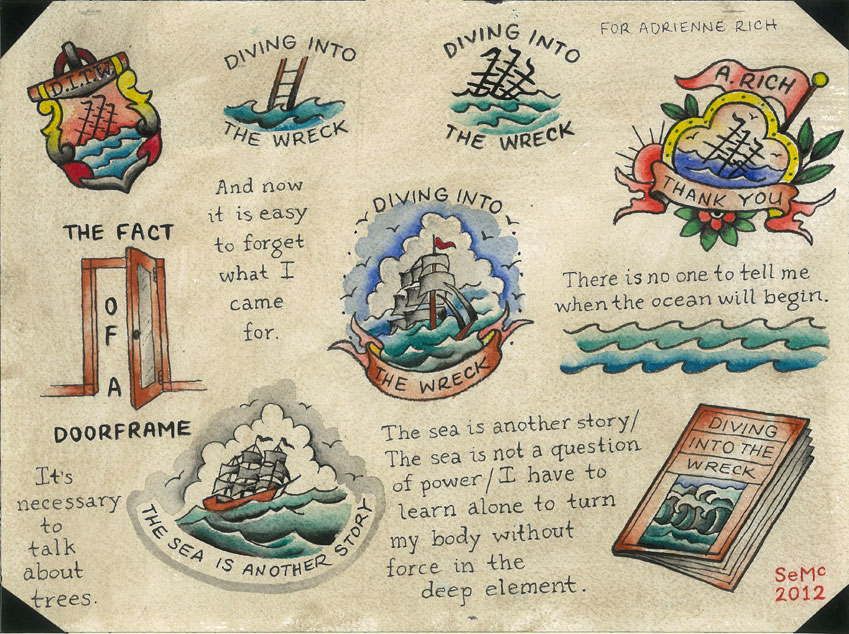 Deana McGuffin is a third generation New Mexico boot maker, handcrafting wearable pieces of art. When she is approached by a Canadian artist and a San Francisco tattooer to create a gay themed cowboy boot, a story unravels of a unique collaboration that takes them to the heart of cowboy country in Northern Texas. BOOTWMN is a heartwarming, intimate and at times funny portrait of the queering of a traditional art form.
Producers: Paige Gratland, Sam McWilliams Directors: Paige Gratland, Sam McWilliams Editor: Bonnie Rae Brickman Camera: Erin Hudson Additional Camera: Paige Gratland, Sam McWilliams, Elia Singer Interviewer: Elia Singer Star: Deana McGuffin
more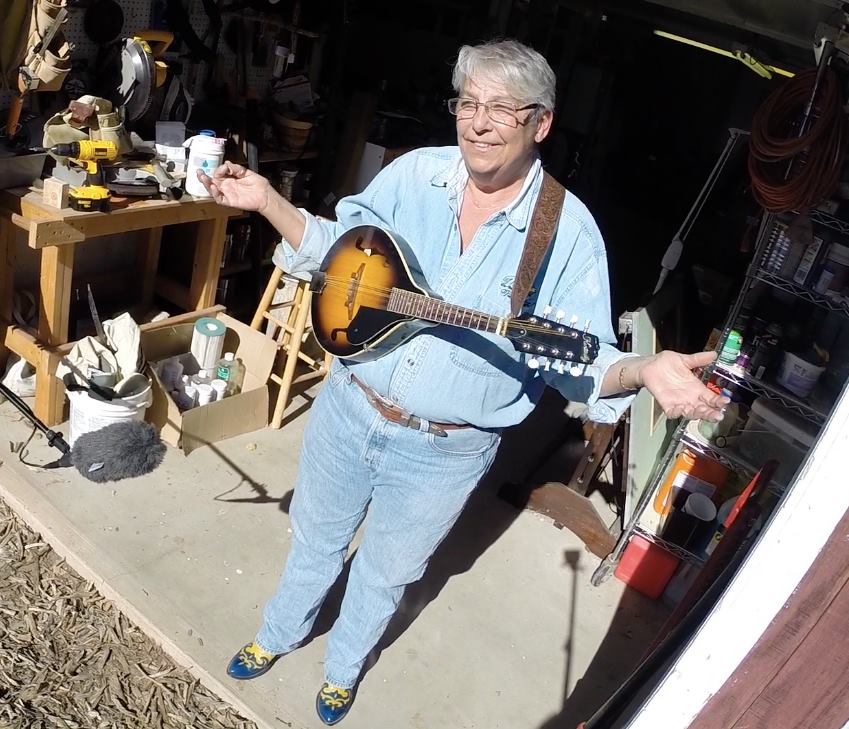 When Sam and her partner, the artist Paige Gratland, got involved in the same-sex country western dance scene, they quickly realized they needed some good looking dancing boots. Paige, of course, wanted to make them herself, and proceeded to research bootmakers in North America. Out of approximately 250 traditional cowboy boot makers, two were women, and one was the incomparable Deana McGuffin, third generation New Mexico bootmaker. Paige and Sam travelled to Albuquerque to do a three week course in traditional cowboy boot making. Paige was inspired by the 1949-51 State Boots, a series designed by the famous Texas boot company Lucchese, with a pair of boots made to represent each state. She wanted to add The Gay State Boot to the collection, and Sam got to tag along to help.
Paige and Sam were so inspired by their mentor Deana McGuffin, that they made a short film about her, entitled, BOOTWMN, that has been successfully navigating the international and domestic film festival circuits.
more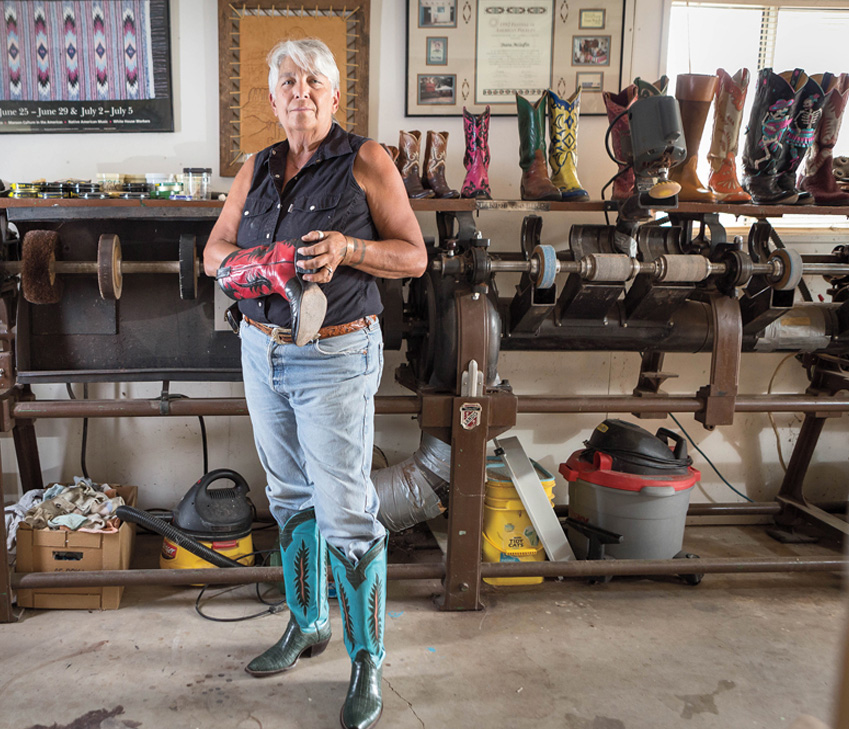 The Traffic Cone Series 2013
Watercolor on paper
The Traffic Cone Series is an homage to these little orange buddies I see scattered throughout the daily landscape. I find their shape, form and colors somehow comforting and humorous, grounding and ever-present.
Painting them allowed me the pleasure of really looking, to spend time staring at an object and describing with paint what I see. Both the looking and the time painting are anchors as solid as these sturdy, flexible cones, grounding a person in this world.
I am interested in the form and the surface. It's a luxury to describe a luminous body and its surface texture with paint. I get excited when a flick of paint gains meaning through our optical-cerebral connection; a touch of ochre becomes a discarded cigarette butt stuck in a crack of cement.